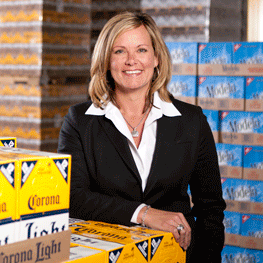 Senior Vice President of Support, Monarch Beverage
Natalie Roberts is the Senior Vice President of Support at Monarch Beverage. As a Senior Vice President, she is involved in development and implementation of short and long-range goals and objectives for the company. Her specific responsibilities include oversight of the support divisions including Finance, Customer Service, Risk Management, Human Resources, Marketing, Public Relations and Government Affairs.
Natalie first came to Monarch Beverage as a college intern in 1994. After several years in Sales, Human Resources, Marketing and Management in January of 2011 her role expanded to Senior Vice President, where she remains today, responsible for all support functions within the organization.
Natalie graduated from Franklin College with a degree in business and from the University of Indianapolis with an MBA. Natalie has been recognized locally and nationally for her work in health and wellness and The Indiana Business Journal recognized her as one of Central Indiana's "40 under 40" in 2010. She is an alumnus of the Hoosier Fellows Program and previously served on the Indiana Recycling Coalition Board and as a Board of Director on the 500 Festival. Currently, Natalie serves as a Board of Trustee for Franklin College, on the 500 Festival Foundation.