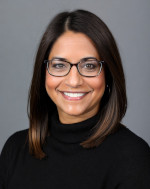 President and CEO of the Employers' Forum of Indiana
Dr. Gloria Sachdev became President and CEO of the Employers' Forum of Indiana in February 2015. She also serves as part-time faculty at Purdue University College of Pharmacy with an adjunct faculty appointment at Indiana University School of Medicine. At Purdue, she teaches in public health, health policy, and business marketing & management courses. Prior to the Forum, she consulted for employers, health-systems, physician groups, health plans, universities, and other health care stakeholders locally and nationally to assist with strategic planning around various health care quality improvement initiatives.
She also practiced for 12 years as a clinician in primary care physician offices at the VA in Madison, Wisconsin; at Scott & White Hospital and Clinics in Temple, Texas; and at Eskenazi Health in Indianapolis, Indiana. She received her B.S. Pharmacy and Pharm.D. degrees from the University of Oklahoma College of Pharmacy and completed a primary care pharmacy residency at William S. Middleton Memorial Veterans Affairs Hospital in Madison, Wisconsin. She has published and presented nationally in the space of developing sustainable business models.
Contact Gloria at gloria@employersforumindiana.org or 317-847-1969.